My Favorite Products
---
Shaklee has so many great products and you can see the full product line by clicking the "SHOP" link above. Everyone is different and has different interests/needs but many of my favorites are some of Shaklee's most loved products:
Shaklee Vitalizer™. This is my foundation. In one daily packet I get foundational nutrients I need, including sustained release B and C vitamins, minerals and more, plus probiotics, Omega-3s and more. If you're like 9 out of 10 Americans, you don't eat enough fruits and vegetables, and that means you may not be getting enough of the right nutrients. That's a great reason to supplement what you eat and I really like the way Vitalizer makes me feel!
Incredivites.This is the foundation for my kids. In two chewable vitamins my kids get 23 nutrients they need. It is the only multivitamin for children with lactoferrin, which helps kids immune systems keep supercharged. These nutrients are important for all children, especially picky eaters!

Shaklee 180™ Vanilla Energizing Smoothee Mix: Soy or Whey. I love these shakes for so many reasons. They are rich in protein and keep me feeling full throughout the morning. I can mix in strawberries, bananas, whatever, and they always taste great! They're great for people watching what they eat or who need a quick meal and these include Leucine which helps retain muscle.


Physique. I use this to help keep toned, but you can take more if you want to build more muscle. Physique also helps with muscle recovery after a workout so you can recover faster and keep pushing harder.

NutriFeron®. NutriFeron is "a clinically supported blend of immune-strengthening plant extracts." I simply call it an immune system booster. It's in my top 5 because so many of my friends and family use it. I feel like it boosts my immune system defenses and helps increase my resistance wherever my paths take me.*
Basic-H2® Organic Super Cleaning Concentrate. I love this because I can use it in so many different ways around the house. I clean my whole house with it. One bottle goes a long, long way. A 16 oz bottle creates an unbelievable 48 gallons of super-safe, really powerful, all purpose cleaner. It replaces so many household cleaners I used to buy at the grocery store. It's concentrated, so it saves me a lot of money compared to ready-to-use cleaners. It's nontoxic, too!
Shaklee 180 Energizing Tea. For me, Shaklee 180 teas are a safe, natural energy boost and a great alternative to sugary snacks, coffee and soda. You can drink it hot or cold. It comes in little single serve sticks so you can just add it to a water bottle; they're very portable and packable. One of my favorite parts – it's not too tart and not too sweet. It's just right!
Shaklee Laundry Fresh. I love this product! It washes away tough stains if you put it directly on the stain and cleans clothes completely during a wash cycle. I use less than the recommended amount and my clothes still get clean. It is great for all types of skin, especially sensitive skin! I also am pleased with how concentrated this is, which means I buy less so it is more economical and better for the environment.

Nature Bright Laundry Booster and Stain Remover. This stuff is like gold in my laundry room. I use it on grass stains, dirt, even stains on upholstery in the car or toilet. You name it. It cleans with "natural enzymes and active oxygen" so it seems to keep my clothes bright without fading, but still clean.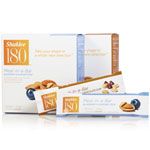 Shaklee 180 Snack Bars. When I get those cravings for a snack, I really like having Shaklee 180 Snack Bars around! Each bar has 10 grams of protein and only 120-130 calories – I like that, a lot. Like the shakes and meal bars, these snack bars also have Leucine, which helps preserve muscle. And, they taste great!